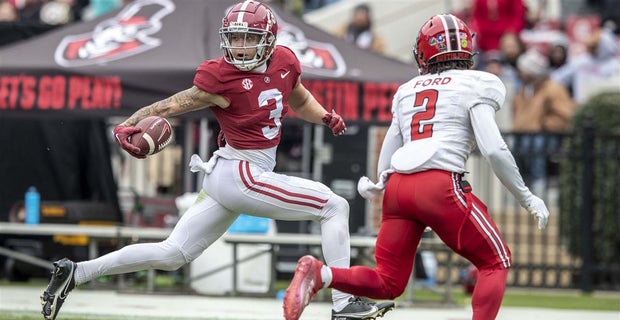 Alabama won its ninth game of the year with a 34-0 win over Austin Peay on Saturday. The Crimson Tide produced 527 yards of offense while defense limited the governors to 206 yards. Here we distribute balls to the best individual performances from the win.
Bryce Young
Young extended his streak of consecutive games to 25 with a touchdown pass to surpass Tua Tagovailoa (24) for the longest such mark in Alabama history. The junior actually threw for two touchdowns in the win over Austin Peay and rushed for 221 yards while completing 18 of his 24 throws in his 25th start for the Crimson Tide. It wasn't a perfect game for the Alabama offense, who had to settle for a few field goals against an FCS opponent, but Young continued to play like the wizard he is, picking up points on the scoreboard when needed.
Jase McClellan
With Jahmyr Gibbs out with a twisted ankle, McClellan took on lead back duties and led the tide. The junior running back had a career day on the ground with 156 yards, a new career best and two touchdowns on 17 carries. Averaging 9.2 yards per carry, McClellan surpassed 100 yards in a game for the first time in his career. In the last two games that Gibbs has been struggling with a minor injury, McClellan has carried the ball 36 times for 240 yards, and he helped start the running game after a lackluster four-game streak.
Jermaine Burton
The third offensive player to have a productive day was Burton, who received both touchdown passes from Young. Burton led the team in every receiving category with seven catches for 128 yards, averaging 18.3 yards per reception and two points. He recorded the longest play of the game — a 50-yard catch and run that set up UA's penultimate touchdown. After his best game in an Alabama uniform, Burton now has more than 500 receiving yards and 30 or more receiving yards in a single season for the first time in his collegiate career.
Brian branch and Kool Aid McKinstry
Throwing defenders together here, and probably unfair, but both made great plays to return the ball to offense. Turnovers have been a problem for Alabama this fall, at least as far as builds go, but UA forced three on Saturday, with McKinstry and Branch recording their first interceptions of the season. Branch connected Henry To'o To'o for the team lead in tackles with eight and counted one tackle for the loss, a big hit for a 2-yard loss in the third quarter. McKinstry contributed three tackles in the game and returned a punt for 10 yards.
Will Reichard
Reichard was once again perfect in his field goal and extra point attempts. The Tide's all-time leader had two field goals and all four points from touchdowns. His field goal attempts were in the second and third quarters from 29 and 30 yards respectively, giving him 19 goals from 23 attempts this season. Reichard has now scored his last 12 field goals and is perfectly positioned for extra points this season, hitting all 51 PATs. The field goals were chip shots for the senior, though AP's Maddux Trujillo missed his only try from 25 yards.
Did you know that BOL has a podcast? The BamaOnLine podcast brings you the latest Alabama news and insights from Travis Reier, Charlie Potter, Hank South and Tim Watts. Watch the latest episode exactly here or subscribe on iTunes today!
Contact Charlie Potter via personal message or on Twitter (@Charlie_Potter).