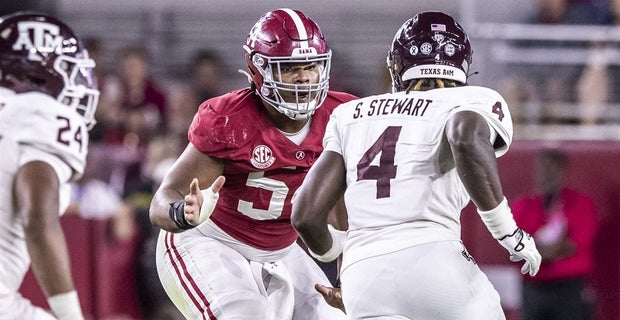 TUSCALOOSA, Ala. – Several Alabama players were out of uniform ahead of Saturday's home game against Austin Peay, including some key starters in running back Jahmy Gibbs, tight end Cameron Latu and defenseman Eli Ricks, all struggling with minor setbacks.
The Crimson Tide also saw left tackle Tyler Steen exit the 34-0 win over the Governors before the end of the first half, going into the locker room with coaches and not returning to the field.
After the game, head coach Nick Saban gave an update on the four injured starters.
"He has a twisted ankle," Saban said of Steen. "He will be day by day. Gibbs has a twisted ankle. He is scheduled to start training on Monday. Latu has a sprained ankle. He should also start practicing next week. Ricks has declassified the concussion protocol so I think he can start practicing on Monday.
Both Gibbs and Ricks sustained their respective injuries in last week's win at Ole Miss and weren't surprise scratches for Saturday's penultimate home game. Latu wasn't eliminated from the Week 11 road win, however, but his absence created opportunities for some younger tight ends like Robbie Ouzts, who caught an 11-yard pass, and rookies Amari Niblack and Danny Lewis.
"Robbie has been something of a runner-up all year," said Saban. "He played a little more H as the off-the-ball guy than the on-the-ball guy. He is very mature and certainly a very reliable guy. He will always do his job and he does it well. He's very conscientious and has enough skills to make games when we need him, so it was good to give him plenty of playing time today too."
Steen was the only player who appeared to be injured on Saturday and his absence resulted in Amari Kight spending most of the second half at left tackle. Freshman Elijah Pritchett also earned his first collegiate reps there late in the fourth quarter, but Kight helped maintain a strong day on the ground (263 yards on 45 attempts) for the Crimson Tide.
"He did a good job," said Saban. "I thought we really controlled the line of scrimmage better in the second half than we did in the first. It's hard to see how the guys are doing from the touchline, but the way we were able to run the ball I thought the offensive line did a really good job."
In addition to the players mentioned by Saban, center Darrian Dalcourt was also out of uniform. He has dealt with back spasms throughout the season. Cornerback Khyree Jackson has not been sighted for the second week in a row. Linebackers Demouy Kennedy (knee), Kendrick Blackshire (wrist) and Keanu Koht also wore street clothes. Koht was wearing a hiking boot on his left foot.
UA didn't play as many boys as hoped, but some youngsters got valuable playing time in the penultimate game of the regular season, a goal for No. 8 Alabama.
"I think it's very important," said Saban. "We want to play as many boys as possible. We played the whole game against a lot of receivers today. We rotated a few people in the game to try and get them experience from the start. Obviously Latu was out so we gained some experience for some other tight ends. With Jahmyr not playing, all running backs had opportunities to play, including 5, 6, 26 and Jase.
"On defence, we attacked a lot of players in a few positions, so we didn't have quite as much depth in some places, but many players still had a chance to play. But actually it would be great if we could play even more players."
The Tide will end the regular season at home against Auburn on Saturday, November 26th.
Did you know that BOL has a podcast? The BamaOnLine podcast brings you the latest Alabama news and insights from Travis Reier, Charlie Potter, Hank South and Tim Watts. Watch the latest episode exactly here or subscribe on iTunes today!
Contact Charlie Potter via personal message or on Twitter (@Charlie_Potter).