HUEYTOWN — Hueytown Police Department continues to receive leads regarding a 1970s cold case. A three-year-old child was last seen in Hueytown on September 17, 1973, but her mother was found dead on the Tennessee-North Carolina line less than a month later.
Christina Lynn Carter and her mother, Janet, left Alabama amid a custody battle with Christina's father. Family members told investigators at the time that Janet planned to take her daughter to a cabin in the Great Smoky Mountains.
According to multiple reports, Janet, who was 24, was in the process of a divorce and had a boyfriend who was married at the time. It is believed that the friend was also in the cabin.
It wasn't until October 7th that anyone heard anything else about Janet or Christina, but the news wasn't good that day. Janet's body was found in a holdall near Clingman Road. A fisherman found the body and called the authorities. Multiple law enforcement agencies were investigating because the road was on the Tennessee-North Carolina line. Hueytown investigators were also involved in the investigation, but only after identifying the body, over a month after Janet's body was found.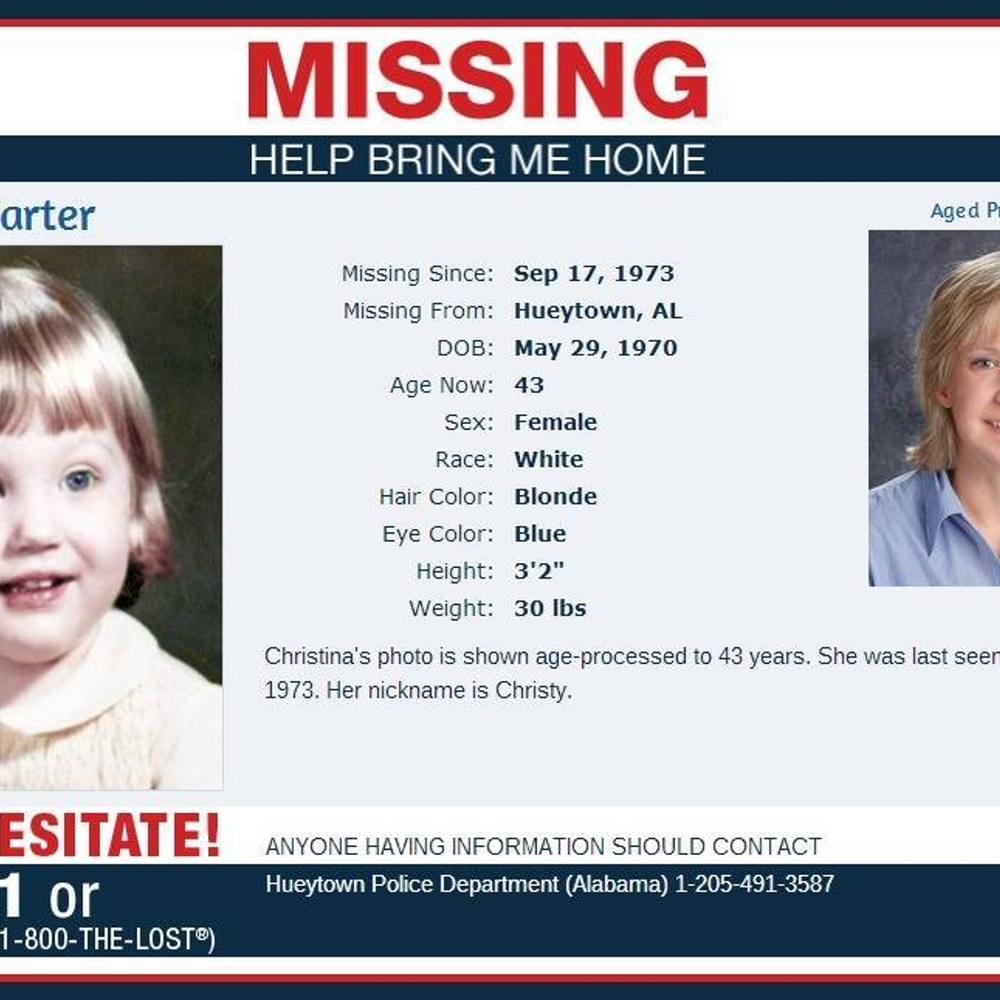 Unfortunately, nobody in Tennessee or North Carolina knew to look for a child until the Hueytown police informed them that she had been traveling with a child. To this day there is no trace of the child. There are rumors that Janet gave Christina away before she died, but no evidence has been revealed to corroborate these rumours. However, Hueytown Police Chief Mike Yarbrough said the department still gets calls from people who think they may be Christina.
"Over the years we've been contacted," Yarbrough said. "More than one person called thinking they could be Christina. They were told to get a DNA test and they did it and were told that in fact they were not Christina."
Lt. Greg Coram said Christina was not reported missing to the Hueytown Police Department until 2008, when the case drew national attention.
"The father came and made a report to the police," Coram said. "He did this so the National Committee could bring the case out."
No one was ever arrested in Janet Carter's death and police have released her boyfriend as a suspect. Investigators never released his name but said he has since died.
Technology has improved since the 1970s, and Yarbrough said advances often lead to the resolution of cold cases.
"Often it's the new technology, the DNA, because some of those things didn't exist the way they do today," Yarbrough explained. "There are new ways to extract these things, and sometimes witnesses or perpetrators come forward and decide they want to tell their story."
The Center for Missing and Exploited Children has released generated images showing what Christina might look like now.
If you have any information about Christina Lynn Carter, you are asked to call the Hueytown Police Department at (205) 491-3587.
To contact the author of this story or to comment, email [email protected]
Don't miss it! Subscribe to our newsletter and receive our top stories every weekday morning.