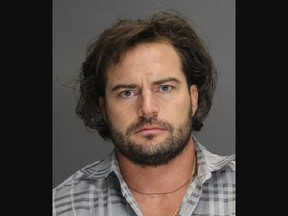 content of the article
A Pennsylvania man who murdered his mother and took pictures with her body has been sentenced to 20 years in prison after signing a plea deal.
content of the article
David Sumney, 33, of South Fayette Township, pleaded guilty to third-degree murder in the 2019 murder of Margaret Sumney.
content of the article
As part of the plea deal, he was given a 20-year sentence, but was paroled in 2039 based on time served.
Relatives asked the police to conduct a welfare check after several family members could not reach them for days.
According to prosecutors, David answered the phone and said his mother was either asleep or drinking and taking pills.
The family was concerned because he had allegedly physically abused his mother in the past.
When police finally forced entry into the home on Sept. 2, 2019, officers found blood smeared on furniture and walls, and broken glass on the floor, prosecutors said, according to the Daily Beast.
content of the article
Margaret's body was found in a bathtub on the second floor.
RECOMMENDED VIDEO
Her scalp was covered with cuts, her face and body were covered with bruises, and she had multiple fractures on each rib.
She was determined to have died from blunt force trauma to her head, neck and torso.
Sumney denied any involvement in his mother's death, saying she likely died from an accident or an overdose, but investigators found dozens of photos of the victim on his cellphone.
"Among many of the photos of the victim appear selfies of the defendant showing his face covered in blood and one showing a thumbs-up," the prosecutor said.
There was also a video showing David washing Margaret's body in the bath and Google searched "how long does it take for a body to start decomposing".
content of the article
MANDEL: Son who killed mom with eight shots to head now out on parole

Man accused of killing mother with ninja sword

Man drives into crowd at fundraiser, then kills mom in Pa, police say
In a court appearance Thursday, Sumney apologized to his family and the judge for his actions.
"I can't believe I would put myself in such a state where I could do something so bad, so horrible," reported the Daily Beast when he said. "I can't believe what I did, I killed my own mother."
Margaret's half-sister Ellen chose not to attend in person but attended via Zoom.
"David, she gave you everything she had. And when she had nothing else to give, you killed her," Ellen said, according to the outlet.
"I had no idea you were such a monster," she said. And I'm still upset that you weren't prosecuted to the fullest extent. That was first degree murder."