Congresswoman-elect Summer Lee made Election Day history by becoming the first black woman elected to the House of Representatives from Pennsylvania. The progressive Democrat came to GMA3 on Friday and spoke with TJ Holmes about the barriers broken with her historic victory and the responsibility of this moment.
Determined not to be the last black woman from Pennsylvania in Congress, Lee said that "all I do is leave this place better than I got here."
GMA3: Welcome back to "GMA3". Since 1789, Pennsylvania has had 1,041 representatives in the US House of Representatives. So far, not one of those 1,041 has been a black woman. That will soon change as State Representative Summer Lee won Pennsylvania's 12th congressional district and is now poised to become the Commonwealth's first black woman in Congress. And she joins us here now.
Congresswoman-elect Summer Lee, it's nice to have you here with us. And I want to thank you for being here now, because that was a lot of campaign work. It was a lot of work getting to Election Day. But there was a lot to do this week. Tell everyone what you did.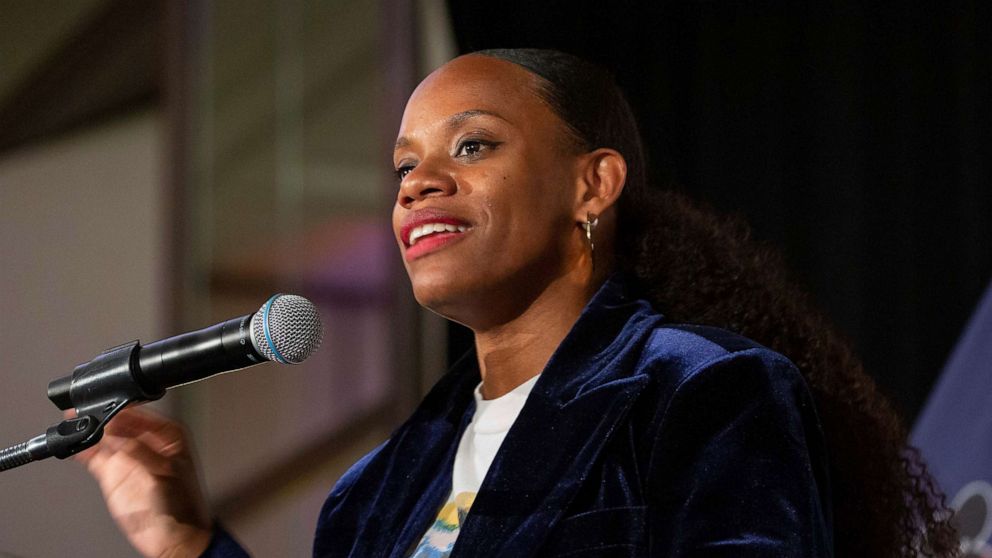 SUMMER LEE: Yes. Oh my goodness. TJ, thank you for having me. Good afternoon. It's definitely been a long week. It's been a really long campaign. And then, you know, we immediately came out to campaign. We came straight to DC for our first week of our two week orientation.
So we learned to learn the ropes. We figured out our way through these buildings and generally how to get to the Capitol. So it was a lot.
GMA3: I know. I know you've heard a lot. We've all heard of orientation over the years. I'm sure you've heard about it from colleagues and press clippings and all sorts of stuff over the years. But still, now that you're there, what this week has still been such a challenge to figure out and learn.
And sometimes we hear it's all about finding the bathroom.
LEE: No, that's exactly right. It's obviously due to the elections and trying to figure out who will be the majority, which we didn't really know until yesterday. So take that. And also try to orient ourselves. It was a whirlwind but I mean incredibly exciting and I'm still pinching myself of course.
GMA3: I know you're pinching yourself there. And some of us pinch ourselves and scratch our heads like a black woman has never served for Pennsylvania, never in Congress. Help us understand why.
Lee: You know, it's pretty remarkable. You know, I'm the first black woman from western Pennsylvania to serve in a House of Representatives, including from Congress. We still didn't have a female senator [from] Pennsylvania, right. We have seen many barriers. Some of them are money.
Some of them are networks and old notions of who should serve and who qualifies. Forgiveness. But all of these things really work together to keep black women out.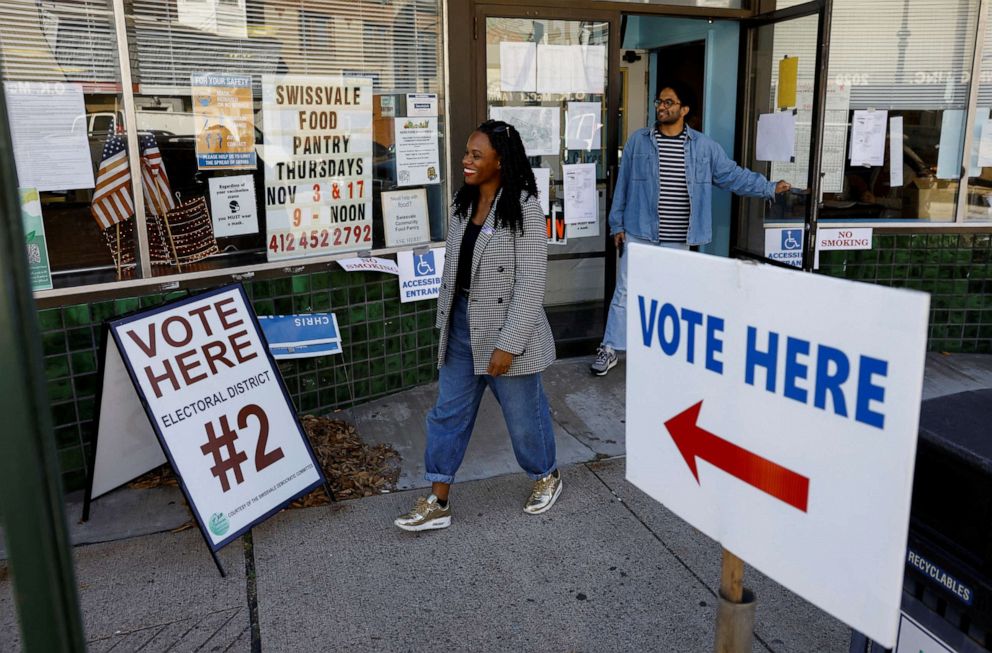 GMA3: All right. That number I mentioned above, out of 1,041 people who served in Congress or in Pennsylvania, was not a single black woman. Why is that?
LEE: You know, there are so many barriers for black women, otherwise marginalized people and poor people and working class people to get into politics. You know, people really underestimate how much it takes to manage so much money that goes into politics. It's such an incredible barrier, isn't it? That's one thing. Then there are old ideas about who should serve, who is qualified or equipped for service.
You know, gerrymandering is one thing, right? We live in counties where black communities are sometimes torn apart. So it's always an achievement to get someone to rise up and win in these races. But still. Right, we're still trying to break down those glass ceilings, but all of those things combined somehow.
We have systemic racism and money and only traditional notions of who is viable.
GMA3: And congressmen-elect, I know you want to do a good job. I mean, you're probably just putting pressure on yourself to be there, to speak up for your, for your district. But now that you've written this story, now that you're a first, and even if you don't feel that extra pressure from outside, are you feeling it yourself and being the first Black woman to put it on yourself?
Lee: Absolutely. I mean, I don't underestimate how much responsibility that is. You know, when you first walk into the Capitol, when you think of all the people who've gone through there before, and then I think of all the people who couldn't go through. I think of her. I think of all the people who were brilliant and skilled and didn't make it or didn't make it to the next level.
I think of all the black women across Pennsylvania who never had representation. So I'm keeping that. It's such a responsibility. I have such a diverse district and we all just want to do well.
We come here to do people's work, but there's always an added responsibility to say: I want to make sure I'm first but not last, and that everything I do is also this one to leave the place better than when I got here.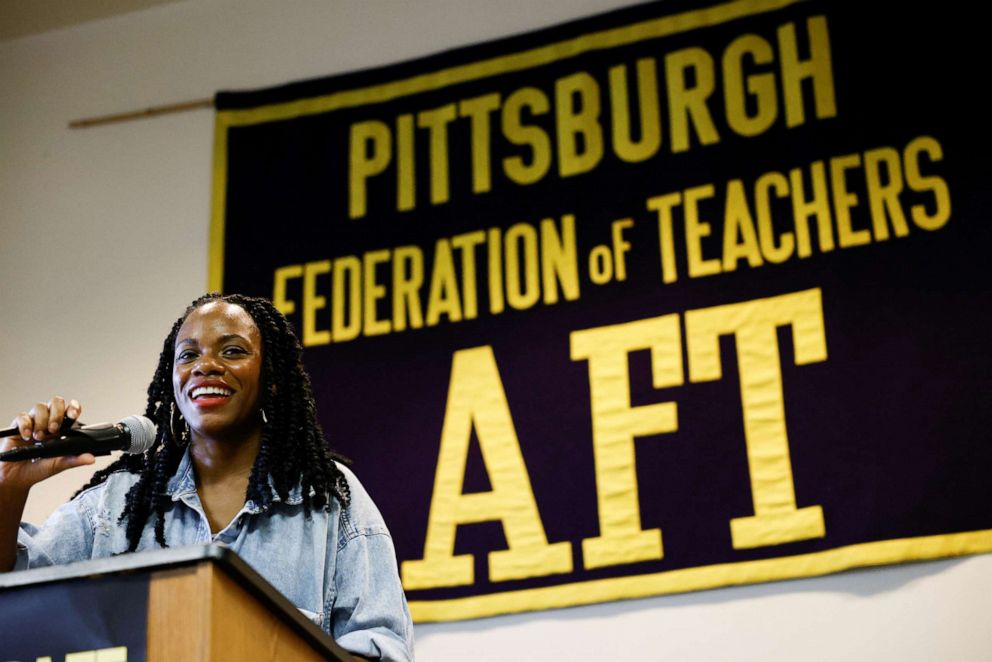 GMA3: And what does that mean for you first of all? What have you observed as a convention observer from afar that you're like, 'Man, if I got in there, I'd like to have that kind of impact.' I'd like to do some of this that has to do with politics.
Some of it just has to do with behavior and tone and how we treat each other. What's one of the first things you're dying to achieve there?
LEE: And you know, I'm an organizer at heart and I recognize that we have and need to build a power within the House that we hear a lot, right. But I'm watching how a kind of new cohort of blacks and browns, young progressives, have been able to come into office, but we're navigating spaces that aren't used to us being here.
So when I think about how I'd like to navigate or what I'd like to see differently, I'd like to see us think about it, even how we build bridges, how we make connections between people who think they're not alike , people who think maybe, you know, one of us calls himself moderate or one of us calls himself progressive, that we don't have anything in common.
I think that's a big job, really just helping people to understand that we're coming with people, that we're bringing our constituents, that we're bringing new interest groups to the table, that we're who we're going to when we're making laws or Set guidelines, who do we turn to for expertise? I tried that at the State House. I think that's what we need to do in Congress because just having black women, having black people and brown people, having progressives isn't good enough.
We also have to say that we need to do things a bit differently and bring other people to the table who didn't have access to it.
GMA3: And we speak of you as a woman making history, another woman making history. Spokeswoman Pelosi announced that she would be stepping down from that leadership role. You see, a lot of people have looked at this. And no matter what your politics, you can still acknowledge that. She was, of course, a trailblazer there in Congress. But now it appears that the front runner, or someone being talked about now, could be a game-changing congressman, Hakeem Jeffries, who may be being talked about as the one who will replace her.
Have you already looked at this? I know you're just doing an orientation, but are you feeling pretty good with him? Possibly now. The first black man to be in this top. Leadership role and possibly in the Democratic Congress.
LEE: You know, obviously like I said, we still get so many firsts, which is amazing. There was a hurricane yesterday, wasn't there? Speaker Pelosi resigns. It was an incredible and truly huge moment. And even as newbies, we're still trying to figure out who else is running. So I've never heard of anyone else running. But I'm thinking of all the people who will now see themselves represented in the leadership.
My dream is that whoever takes the lead really develops a progressive vision of how we want this party and our country.
You know, we have two years to get the majority back. That's two years in which our leadership team has to make it clear to the entire American people before a presidential campaign what we will stand for. So he has a big task ahead of him.
GMA3: I appreciate that. You're like, 'TJ, they just happened yesterday. But I'm looking for an apartment in DC right now and you're asking me about the leadership vote? So I know you're busy because when you were a congressman-elect we used to watch you from afar and you deal with this cold and all and rest.
I know you're busy, but we hope to see you later, okay?
Lee: Hope to see you too. Thank you for having me.